On Sunday, October 16, 2022, Fishers Island high school students packed onto the 8:15 a.m ferry to begin their adventure. Once in New London, they filed off the boat to join their mainland schoolmates to find a colossal Dattco bus. Within minutes, all of the students and chaperones piled onto the bus and found their seats.
Everyone was so excited. For some of us, the excitement was due to the fact that we could leave the island and do something fun. For others, it was the fact that students could spend time with their friends. Smiles and laughs filled the bus. Two hours later, we looked out the window to see tall skyscrapers, bulletin boards, lights, and so many people. It was like something you see in movies. The energy level grew as we all knew that, soon, we would stretch our legs to head towards the next part of our adventure.
The bus driver dropped us off a few blocks away from Carmine's, where we were going to eat. The restaurant was absolutely beautiful and completely packed with people. Waiters and waitresses ran to and fro serving families, scrambling together to sing boisterous renditions of "happy birthday" to tables surrounding us. We ate 'til our bellies ached – mountainous piles of pasta, chicken parmesan, and garlic bread. I mean, who doesn't love Italian food?
Just as we were about to leave the restaurant we had a surprise visitor – Sebastian Arcelus – the star of the show we were about to see! He was nice enough to come meet us, since we were too large of a group to be taken backstage. On the busy sidewalk outside the restaurant, he thanked us for traveling to see Into the Woods and posed for a few photos before he had to return to the theater to get ready for the afternoon performance.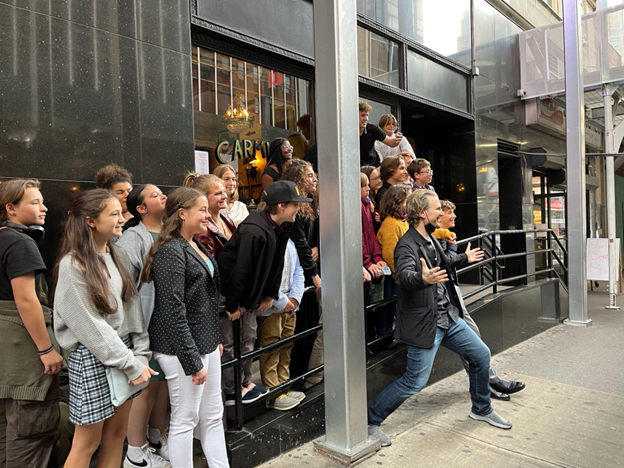 Since there was still time for us to explore before the show, we formed a long line of students and trailed behind Mr. George, like ducklings down the sidewalks of New York City. We oohed and ahhed at the buildings and the shocking number of people amongst us.
In no time at all, we arrived at the St. James Theater! Partnered up with a buddy, we were handed our tickets, ambled through the front doors, and were shown to our seats. The lights dimmed, the audience hushed, and the curtains lifted just as vibrant music, comedy, and amazing choreography filled the stage -- it was nothing less than magnificent! In the span of two hours, many of us had grown attached to specific characters. From Patina Miller's powerfully emotional Witch to Stephanie J. Block's perfect comedic timing paired with her real-life husband, Seb Arcelus, as the Baker and Baker's Wife. The cast was perfect and left us both cackling and fighting back tears.
After the show, the theater's ushers hurried us out of the building. We stood outside as some of the actors came out to get into their cars, all of us hoping to see our favorite cast members. Still talking about the spectacular show, we settled back on the bus for our journey back home.
We all had an amazing time and we are so appreciative to everyone involved in helping make this happen. First, we owe a massive thank you to Islanders for Islanders, as their grant funded nearly all aspects of this trip, including transportation and tickets. We would also like to thank Julie Arcelus, Aly Horn, and Christian Arsenault, who partnered with FIS Connect, the new parent-teacher group, to coordinate logistics. Finally, a thank you to the St. James Theater and Sebastian Arcelus for making Fishers Island School feel welcome!
To anyone interested in learning more about our trip or ways to help enrich the lives of Fishers Island School students, please reach out to the members of FIS Connect!
Written by: Bella Harris (9th Grade)