Our Fisher's Island app keeps getting better and better! Parents/guardians who have already created a Rooms account can now access new app features like chat and class streams via web and in the app. Download for Android
https://bit.ly/3MbVjyh

Download for iPhone
https://apple.co/3Nbvu2w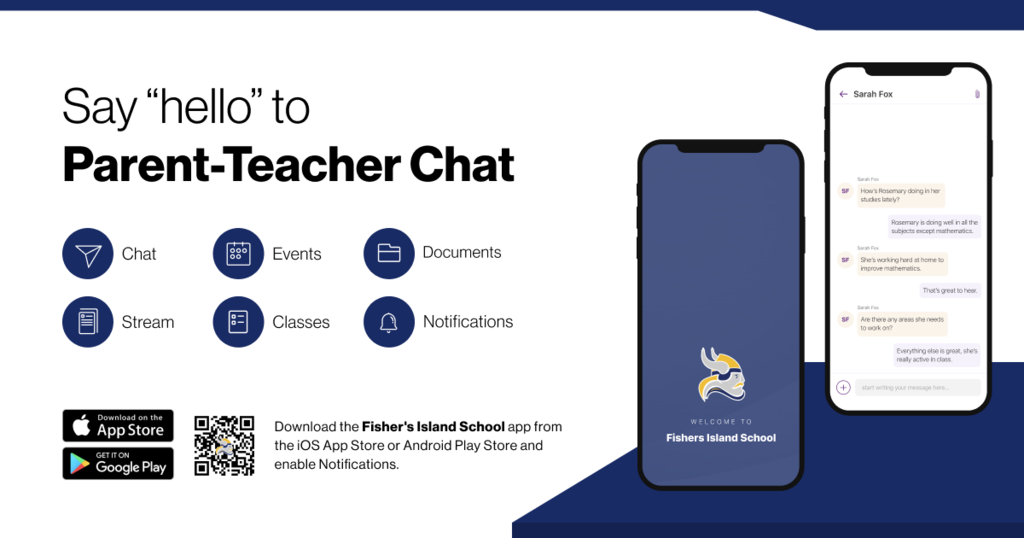 Cougars Basketball Game (5th and 6th Grade) against West Bay Christian Academy on Friday, February 10th. We will take the 12:45 ferry from Fishers Island to New London. Island residents will take the 6:15 ferry back to Fishers Island, and CT residents should be picked up at 5:45 at the New London Ferry Dock. The game will start at 2:30, with the middle school boys and girls to follow. Students should bring shorts, sneakers, water bottles, and snacks. Shirts will be provided. Permission Slips to be sent home!

Say "hello" to parent-teacher chat and classroom announcements in the Fisher's Island app! With the addition of Rooms, our district app keeps getting better. Parents/ guardians check your email with instructions to sign up and access new features.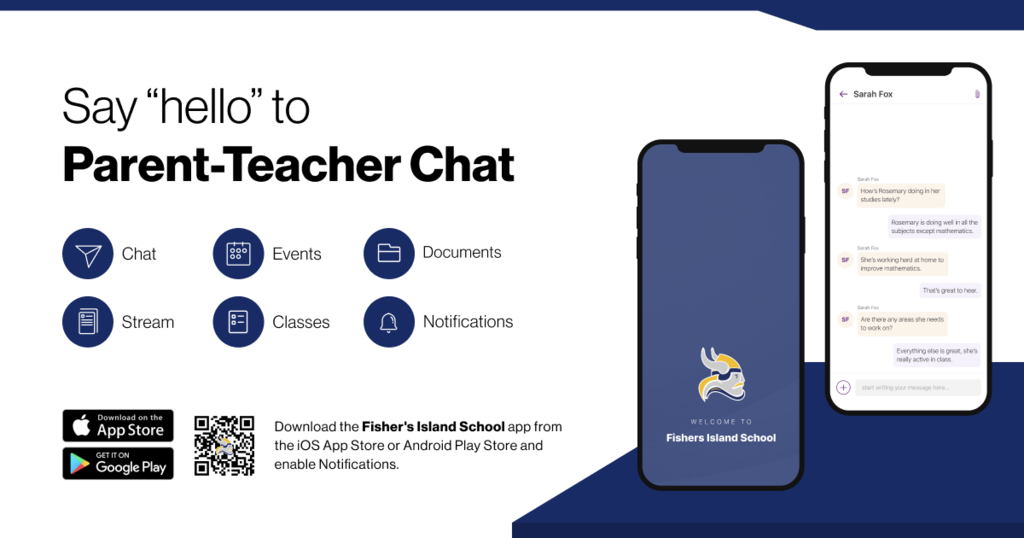 Say "hello" to parent-teacher chat in the Fisher's Island app! The same district app now offers class streams, class announcements, and parent-teacher chat. Download for Android
https://bit.ly/3MbVjyh

 Download for iPhone
https://apple.co/3Nbvu2w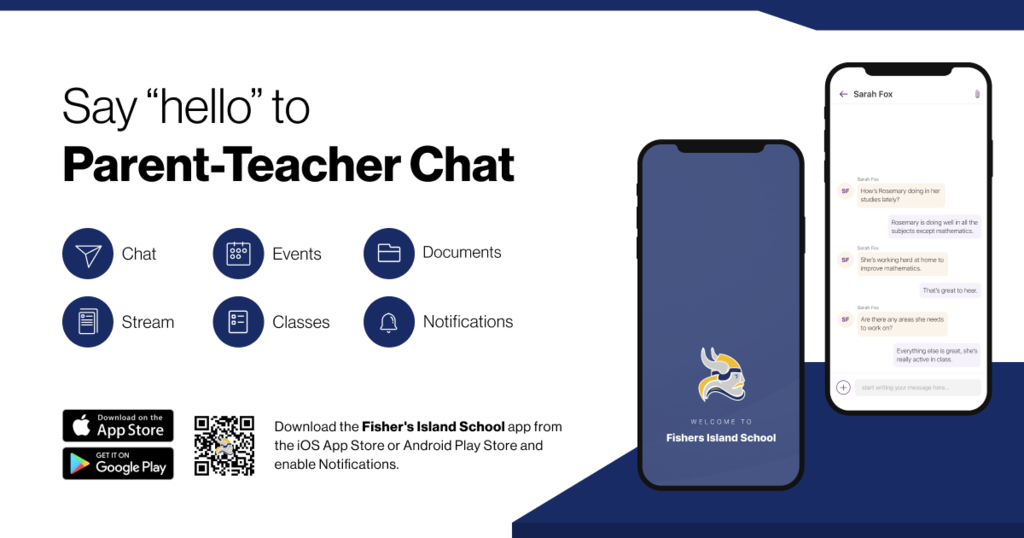 Coffee with the Principal that was scheduled for tomorrow, January 30th has been postponed one week to Monday, February 6th. We hope to see you there! Where: Washington St. Coffee Shop- 13 Washington St #1, New London, CT When: Monday, February 6th, 9:30-11:00a​

We have been informed by the Fishers Island Ferry that the 3:30/4:45p has been canceled due to the wind. All Fishers Island School students will be dismissed at 1:15pm. CT Resident students will be leaving on the 1:15pm ferry for a 2:15pm pickup in New London. Fishers Island Residents students should be picked up at the school at 1:15pm.

REMINDER: Coffee with the Principal is back, and you are invited! We invite all of our parents to join Mr. Arsenault for a cup of coffee and conversation on all things FIS! Updates to Include: School Renovation Project, 2023-2024 Recruitment, Parent Communication App (new), and MORE Where: Washington St. Coffee Shop- 13 Washington St #1, New London, CT 06320 When: Monday, January 30th, 9:30-11:00a Please RSVP to Christian at
c.arsenault@fischool.com
if you can make it!

OPEN HOUSE FOR PROSPECTIVE FAMILIES will be held on Tuesday, February 7th. Families with students entering grades 4-9 in the 2023-2024 school year are invited to attend this informational session to learn more about our school and the admission process. More information to be found under the "Admissions" tab on
www.fischool.com
Help us spread the good word about FIS!
Girls Basketball Game today at FIS vs. Rocky Hill starting at 12:45pm! GO VIKINGS!
Boys Basketball Game today at FIS vs. Oxford Academy starting at 12:45pm! GO VIKINGS!

​The last day to purchase the 2022-2023 Fishers Island School Yearbook at the discounted rate of $5 is Friday, January 20th. The rate will increase to $8 after 1/20. Student recognition ads can also be purchased now. Go to
www.buytheyearbook.com​
School ID #708093 to buy online and design your ad. If you have any questions, email
c.sawyer@fischool.com

The Girl's Basketball Game (Home) against Norwich Tech will begin today at 1:50pm. Go Vikings!

Best wishes for the holidays to the entire Fishers Island School Community! We are grateful for everyone who makes our school so special! Looking forward to all that we will accomplish together in 2023!
Basketball Games beginning at 1:00pm! Girls game followed by boys game.

Due to the forecasted winds and anticipated ferry cancellations, we will have a Remote Learning Day on Friday, December 23rd. I hope this early notification will give you additional time to rearrange your plans during this busy holiday week. Remember that we must hold a Remote Learning Day because we had already utilized our only "Bad Weather Day" in September when we closed for COVID. As planned, we will still hold a half-day of school. Teachers will communicate with their students (and families in elementary) the expectation for classes on Friday- this will either be live zoom classes, assignments in Google Classroom, or work that is sent home in advance. Students will be sent home with all required materials on Thursday. We ask that you notify the main office (
a.horn@fischool.com
and
c.arsenault@fischool.com
) if your child cannot participate in their assigned learning so that we can mark their attendance accordingly. The holiday events previously scheduled for Friday (Reindeer Games, Secret Santa, etc.) will all be rescheduled and communicated to students. Please do not hesitate to reach out with any questions or concerns. In your service, Christian
The parent-teacher group, FIS Connect, will be coordinating potluck-style food items, such as soup and sandwiches, as well as desserts and coffee for those attending the concert this evening. Food options will be labeled, but those with allergies should consider alternative options. We hope you'll stop by our table to learn more about FIS Connect!
REMINDER that the Winter Concert and Art Show will be held tomorrow, December 20th in the school gymnasium beginning at 5:15pm. There will also be several student fundraisers (calendars, apparel, etc.) for purchase prior to the music concert.  Reminders for Students/Families: Tomorrow is also Twinkle Day where students are encouraged to dress as a Holiday Tree. Musical performers, please remember to bring a change of clothes for the winter concert. Appropriate clothing would be khakis, dress pants, skirts, dresses, button down shirts, blouses, etc. There is no requirement regarding the color of clothing but please make sure that attire is school appropriate and follows the guidelines outlined in the school's dress code policy.  The ferry leaves New London at 3:30pm to arrive on island at 4:15pm. The ferry departs Fishers Island at 7:00pm to arrive back in New London at 7:45pm. There will not be food available for purchase or dinner. Families and performers should plan accordingly. 
REMINDER: Tomorrow is Pajama Day!

Due to the inclement weather, Fishers Island School will run a delayed opening schedule today, Monday, December 12th. All Fishers Island resident students (Elementary and High School) should arrive at school at 12:25 pm and be dismissed for pickup or walking home at 4:15 pm. Connecticut students will take the 11:30 am Fishers Island Ferry and return home at the typical 4:45 pm boat. All members of the boy's basketball team will meet at the New London ferry terminal at 1:30 for their game at the Grove School.